Today is September 1st which means it is time for a new Oddball Art Facebook Challenge!! It also means that we had to say goodbye to some of our old DT members and hello to new members and a new Design Team structure! Thank you to

Crystal GetsCrafty Jenn Engle Melissa Nash Oeters

for all the amazing work you created for us, it was great working along side you talented ladies!
Now let's welcome some of our new design team member for our new term! We al

so have a new DT set up; we have divided the group into 2 teams. Today team A will share with you what they've created for this challenge and team B will be creating amazingness over at the blog challenge on September 15th so you don't want to miss out on that!
Let's welcome our team A: Ria ZonneStraaltje, Monika Korjat, Vicky Fortier, Kasia Frezja Kowalczyk Curcelli, Jenn Blakeney Borjeson, and me, Serena Bee. Head on over to Oddball's Facebook page by clicking this link to see what we all created! Please note the privacy settings has changed for the group, you now must be a member in order to join. Lizzy changed it to a closed group because she will be giving away free digis in the upcoming future and wanted to keep them from spreading.
Here is a look at the
free digi offered on the facebook group for this challenge, so go on over to claim it!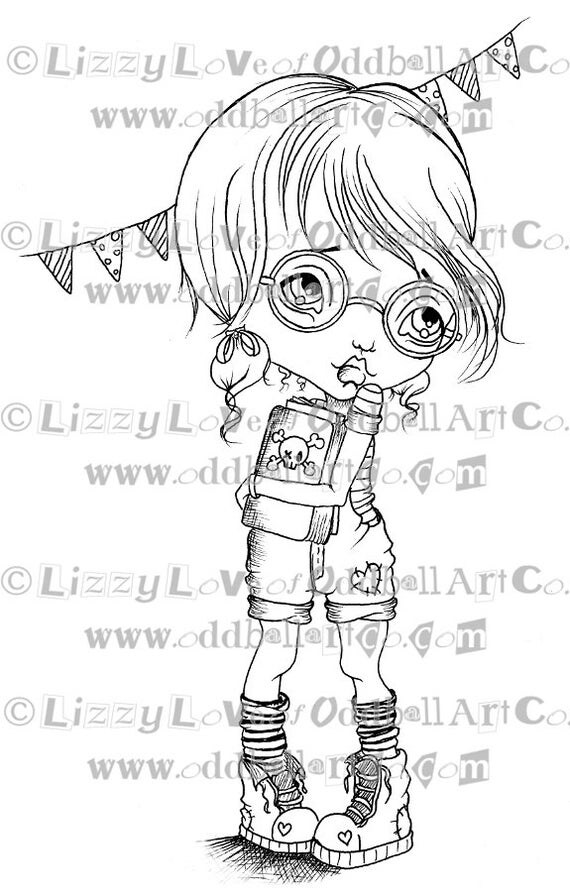 How could you not want this free cutie!
Now here is a look at what I created for this challenge, once again the theme is "anything goes"
Now here's the thing, I really set out to create something else other than a halloween card this time around, i swear I did but in the end this is what I came up with lol. It's ok, halloween is the best and I will be sending it out to a Youtube buddy!
I then created a bow and added a puffy eyeball sticker in the center. This is my favorite part of the card :)
Now let's get to the prizes!
Lizzy has decided to shake things up so there is no longer only 1 prize, there are now 4 WINNERS for both the Facebook challenges and the Blog Challenges!!!!! How super awesome and gracious is that!!!! So here is how the new set up will work:
1st grand prize winner will receive 3 free digis of their choice
2nd prize winner will receive 2 free digis of their choice
3rd prize winner will receive 1 free digis of their choice
and there will be one winner chosen at random that will also recieve 3 free digis of their choice!!!
That is a total of 18 digis given away every month that you could potentially win!! How freakin cool is that!!
Now go on, check out the facebook group, join, get your free digi, and enter to win one of 9 prizes!! You have until October 1st to join!
Good luck :)
Serena Bee